Northbrook, IL — Ampry Publishing introduced a new digital format for Rug Hooking and Wildfowl Carving Magazine by making the magazines available to readers through the Amazon Kindle Store. Every new issue can now be found in this accessible and convenient format, which benefits readers who need a portable version for their on-the-go rug hooking demands as well as those overseas who dislike having to ship print copies. Additionally, the Kindle Store format allows the magazines to offer a 30-day free trial to interested rug hookers and wildfowl carvers who want to investigate the magazines' content before deciding to purchase a year's subscription.
The addition of Rug Hooking and Wildfowl Carving Magazine to Amazon Kindle brings the magazines' high-quality content to a wider audience. Fans of both publications have long come to appreciate each issue's collection of helpful tips, original designs, and fascinating stories of connections formed by bonding over a beloved craft. Rug hookers can access exclusive patterns like Good Morning! by Joan Moshimer, while carvers can follow step-by-step tutorials of both the carving and painting stages for birds like the rose-breasted grosbeak.
Rug Hooking magazine can be found in the Amazon Kindle store here. A digital subscription provides a year's worth of content—five issues total—for $34.95.
Wildfowl Carving Magazine can be found in the Amazon Kindle store here at this link. A digital subscription provides a year's worth of content—four issues total—for $37.95.
Current print subscribers will not automatically be signed up for the Kindle store, so those who want to take advantage of this opportunity will also need to subscribe separately to access a digital version.
About Rug Hooking Magazine
Rug Hooking magazine provides high-quality information, how-to instruction and innovative patterns for a thriving fiber arts community. Published five times per year, the magazine can be accessed through a subscription or purchased in some book and craft stores.
About Wildfowl Carving Magazine
Wildfowl Carving Magazine is the only magazine for bird carvers. Readers turn to us for start-to-finish projects, fascinating profiles, and helpful patterns. Our informative articles cover a variety of topics, from how to design an effective carving to how to ship your work safely.
Debra Smith, editor of Rug Hooking magazine (RHM), spent a week in June at Caraway Rug School in Caraway, North Carolina. It was a whirlwind week: meeting rug hookers from far and wide, visiting with friends old and new, networking with teachers and RHM contributors and learning from dawn to dusk. The Caraway Conference Center was filled with hooking and dyeing, pattern preparation and design, tips and techniques for better rugs and wonderful inspiration. Rug hooking is alive and well and growing in popularity. Be sure to check it out sometime and be amazed at the vibrant wool art being produced by a wide range of textile artists.
Rug Hooking magazine provides high-quality information, how-to instruction and innovative patterns for a thriving fiber arts community. Published five times per year, the magazine can be accessed through a subscription or purchased in some book and craft stores. Subscribe here to access one or two years of hooked happiness. Rug Hooking magazine has additional ways to connect rug hookers with one another, particularly through the free email newsletter, Rug Beat. The newsletter includes patterns, tutorials and event news, so sign up by clicking here. For those who love to read as well as hook, RHM also has something for you: the book club. Rug Hooking publishes four books per year on topics such as dyeing (from Gene Shepherd himself) and punch needle rugs. Join the club by signing up for a Book Club membership and you will even be able to reserve your copy of the annual "Celebration" book.
Northbrook, IL – Rug Hooking magazine and Ampry Publishing are proud to present their latest book release, Designed by You: Ideas and Inspiration for Rug Hookers. Written by accomplished rug hooker, Tamara Pavich, Designed by You explores how artists and rug hookers can find inspiration for new projects in the world around them. By exploring different approaches, including looking at different artistic styles, playing with color schemes, finding inspiration from stories, and more, Pavich leaves no stone unturned, allowing even the most novice rug hooker to find an outlet to express their artistic endeavors.
Designed by You features over 100 original designs from nearly 50 rug hookers from around the world, showcasing the very best hooked rugs with full-color photography throughout. Pavich draws on her history of working with accomplished rug hookers like Donna Hrkman, Pris Buttler, Anita White, and Cathy Stephan to present a range of ideas that will challenge and delight.
Designed by You is available now for book club subscribers. It is also available for pre-order on Amazon and will be released on June 1, 2017.
Rug Hooking magazine produces four books each year. Hooked Carpetbags, Handbags & Totes was released on February 1, 2017 while Celebration 27 will be released on September 1, 2017.
A previously unidentified hand-sewn rug has tentatively been recognized as the work of Otha and Blanche McDonald of West Virginia. After reading the article, "Chasing Down a Textile Story" from the January/February 2017 issue of Rug Hooking Magazine, the rug's original owner contacted researcher, artist, and author Susan L. Feller.  The reader reported that she had previously owned a probable McDonald sisters' rug.  An admirer of folk art, this owner had purchased the four- by six-foot rug shown here in Ohio in the early 1980s.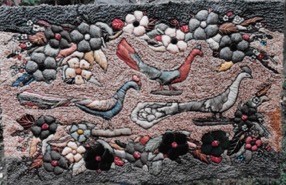 [photo: 4′ x 6′ hand sewn rug, McDonald sisters, West Virginia, circa 1970.]
The rug then changed hands again, first being sold to a collector and friend of the original owner before being sold again at a New York City collectable textile show.
The distinctive style of the sisters is easy to identify, and Feller is thrilled to have located one more of these rugs, which she calls primitive collectables. Feller plans to continue looking for more McDonald sisters' rugs, as no one knows how many more of their unidentified works of art might exist.
Discover more about the McDonald sisters at ArtWools.com/McDonalds.
Northbrook, IL—Rug Hooking Magazine author and designer Gene Shepherd visited the Ampry offices this week to film beginner videos with Rug Hooking Magazine. Shepherd brought his world-class talent to the studio to share his expertise with a growing community of rug hookers, and this new content will be released by Q1. Several of Shepherd's articles and published books are available through Rug Hooking Magazine's website.
Ampry Publishing staff also benefitted from Shepherd's visit. Staff frequently take advantage of in-house opportunities to have hands-on training in the cooking and crafting fields, and Shepherd's class was no exception. With backing material, wool strips, and hooks for all, Shepherd held a class for employees to learn the basics of rug hooking.  As staff began hooking their own floral and linear designs, Shepherd answered questions and worked with individuals to create their very first rugs.  For a closer look at Shepherd's class, be sure to visit the Rug Hooking Magazine article here, complete with photos.
Northbrook, IL
On August 17-20, Ampry Publishing's Rug Hooking Magazine attended the annual Rug Hooking Week at Sauder Village in Archbold, Ohio. Rug hookers from all over the United States and Canada participated in this 20th anniversary event by viewing the hundreds of exhibited rug pieces, attending some of the 33 different classes offered, and buying rug hooking supplies such as kits and wool. Rug Hooking Week also provided the opportunity for rug hookers to pick up the latest issue of Celebration, which contains some of the rugs that were on display this week. In addition to all these attractions, attendees were able to enjoy an enthusiastic community of fellow rug hookers.
The rugs at Sauder Village covered a wide range of subjects, including Steampunk, landscapes, antique photos, and more. One of these photograph-inspired rugs won the Sauder Village Prize. Martellotti Family Picnic Circa 1928, designed by Leonard Feenan and hooked by Elizabeth Marino, portrays Marino's husband's family on a picnic in Brooklyn, New York. Alongside traditional rugs, participants branched out to show off their mixed-media projects such as footstools and pieces made from proddy, quilling, and punch needle. Highlights of the week included a book signing by Donna Hrkman, author of Creative Techniques for Rug Hookers, and the display of Jane McGown Flynn's first hooking which she created to earn a Girl Scouts badge at the age of nine.
Northbrook, IL – Rug Hooking Magazine has officially released Rug Hooking with Deanne Fitzpatrick, written by Deanne herself, and drawing from her 25-year background as writer, teacher, and rug hooker. This book can be purchased through Rug Hooking Magazine.
Rug Hooking with Deanne Fitzpatrick takes readers through Deanne's earliest work and its evolution through different styles, subjects, and lessons, to where it is today.  Including full articles written during her 20 years at Rug Hooking Magazine, the book also features how-to instructions from Deanne's years of experience, insight into her creative process, and her analysis of rug hooking's changes over the past decades. She includes over 40 of the rugs she has worked on throughout her lifetime, tracing her career and the history of the art form she loves. She translates her experiences into making personal designs and shows readers how to do the same, coaching them through the process of designing custom pieces from inner creativity.
Deanne writes in her introduction that "Writing has been a big part of my rug-hooking life. Through it, I learned about my own process, and writing enables me to examine it and push it a little further. This book is a record of my work: What I learned and what I tried to teach through the pages of the magazine."
This will be Deanne's seventh book. Her art has been displayed in numerous art galleries, including the Art Gallery of Nova Scotia and the Canadian Museum of Civilization. She continues to rug hook in her studio in Amherst, Nova Scotia, drawing eager students and visitors from Rug Hooking Magazine's global community. She also runs a blog with thousands of online viewers each year.
Northbrook, IL – Today, Ampry Publishing completed the acquisition of Stackpole Magazines. Stackpole was established in 1930. Ampry Publishing now owns two print magazines, related book clubs, and an annual event. The magazines are Rug Hooking Magazine and Wildfowl Carving Magazine. Stackpole was acquired by Ampry Publishing, LLC, which will operate as a sister company to Prime Publishing, LLC.
Joining us from Stackpole will be select staff, who will continue to work in Pennsylvania. Debra Smith will continue as Editor of Rug Hooking Magazine, and Tom Huntington will continue as Editor of Wildfowl Carving Magazine. Debra and Tom will continue to create great content, while marketing and advertising sales will be handled out of our offices In Northbrook.
Over the next few months, we will create a free content website for each magazine, along with an associated email newsletter. In 2017, we plan to introduce best-in-class tablet editions for both publications.