January 23 , 2017
A previously unidentified hand-sewn rug has tentatively been recognized as the work of Otha and Blanche McDonald of West Virginia. After reading the article, "Chasing Down a Textile Story" from the January/February 2017 issue of Rug Hooking Magazine, the rug's original owner contacted researcher, artist, and author Susan L. Feller.  The reader reported that she had previously owned a probable McDonald sisters' rug.  An admirer of folk art, this owner had purchased the four- by six-foot rug shown here in Ohio in the early 1980s.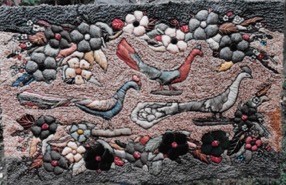 [photo: 4′ x 6′ hand sewn rug, McDonald sisters, West Virginia, circa 1970.]
The rug then changed hands again, first being sold to a collector and friend of the original owner before being sold again at a New York City collectable textile show.
The distinctive style of the sisters is easy to identify, and Feller is thrilled to have located one more of these rugs, which she calls primitive collectables. Feller plans to continue looking for more McDonald sisters' rugs, as no one knows how many more of their unidentified works of art might exist.
Discover more about the McDonald sisters at ArtWools.com/McDonalds.